Bean Bag Positioning Set
$

55.00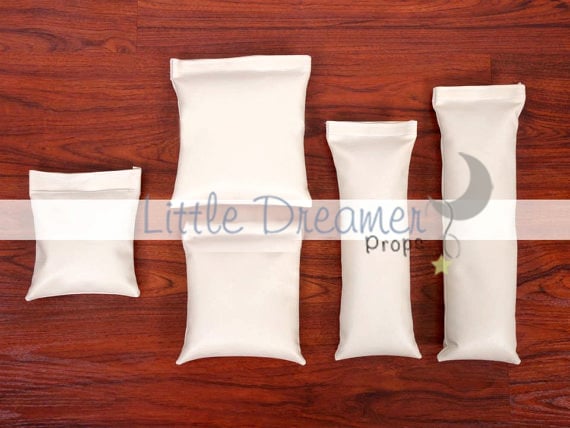 Are you a photographer who lives for those newborn sessions when you get to have those precious little babies in studio and constantly think of new ways to capture their gorgeous little selves without making them uncomfortable? If so, then this listing for a bean bag positioning set is going to be the perfect addition to your studio! The Newborn Baby Bean Bag Positioning Set comes with five pieces, the sizes are as follows:
Sizes Included:
17 x 5 inches
14 x 5 inches
7 x 6 inches
9 x 8 inches
8 x 7 inches
These beanbags are used to help with positioning newborns into those perfect poses. Use under blankets to prop baby up, in basket and beds. No more using rolled up towels!
The bean bags consist of vinyl fabric with a Velcro closer which is perfect for those newborn shoots as it is waterproof and makes for easy clean up should one of those angels have an accident while shooting.
A Note Regarding Filling:
The Bean Bags DO NOT come filled. We recommend filling with either beans or beanbag fill. The fill can be purchased at Wal-Mart (online and shipped to the store nearest you for free).
*VERY IMPORTANT* *My current turnaround time is 2-3 weeks before order ships.
Priority shipping 1-3 days, tracking and insurance is included in shipping price.
Little dreamers Props is not responsible for packages that are damaged, lost or stolen.
**Although this poser is made from High quality vinyl, it is not immune to harm. To avoid punctures or rips keep poser away from sharp object and chemicals. The Poser is meant to be used solely as a prop for newborns and not to be used as a bed, chair, toy or other device. Never leave baby unattended and always have a spotter while shooting. Bean bag fill could potentially be a choking hazard if swallowed or inhaled, never leave small children unattended and always store in a safe area in your home or studio