Individual Positioners
$

12.00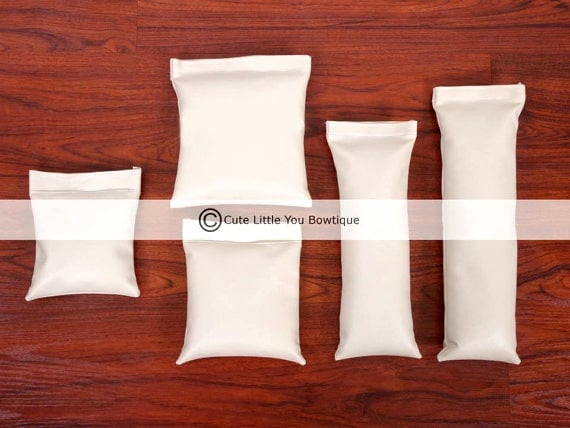 This listing is for individual positioners if you would like to add to your set or only purchase a few at a time. Please see other listing for the complete set.
Sizes to choose from:
17 x 5 inches
14 x 5 inches
7 x 6 inches
9 x 8 inches
8 x 7 inches
These beanbags are used to help with positioning newborns into those perfect poses. Use under blankets to prop baby up, in basket and beds. No more using rolled up towels!
The bean bags consist of vinyl fabric with a Velcro closer which is perfect for those newborn shoots as it is waterproof and makes for easy clean up should one of those angels have an accident while shooting.
A Note Regarding Filling:
The Bean Bags DO NOT come filled due to the size and shipping cost. They will arrive EMTY and you will need to fill them yourself. The fill can be purchased at Wal-Mart (online and shipped to the store nearest you for free)
*VERY IMPORTANT* *My current turnaround time is 2-3 weeks before order ships. Posers are not ready to ship they are made to order) By purchasing this product you are agreeing to the current turnaround time.
Priority shipping 1-3 days, tracking and insurance is included in shipping price.
*Closed Fri -Sunday ( Orders ship Mon-Thurs) If your order is do to ship out on Fri , Sat or Sun it will ship out the following Monday. You can check your ship date by going to your current orders.
*Closed all Holidays